Capabilities - Beck Optronic Solutions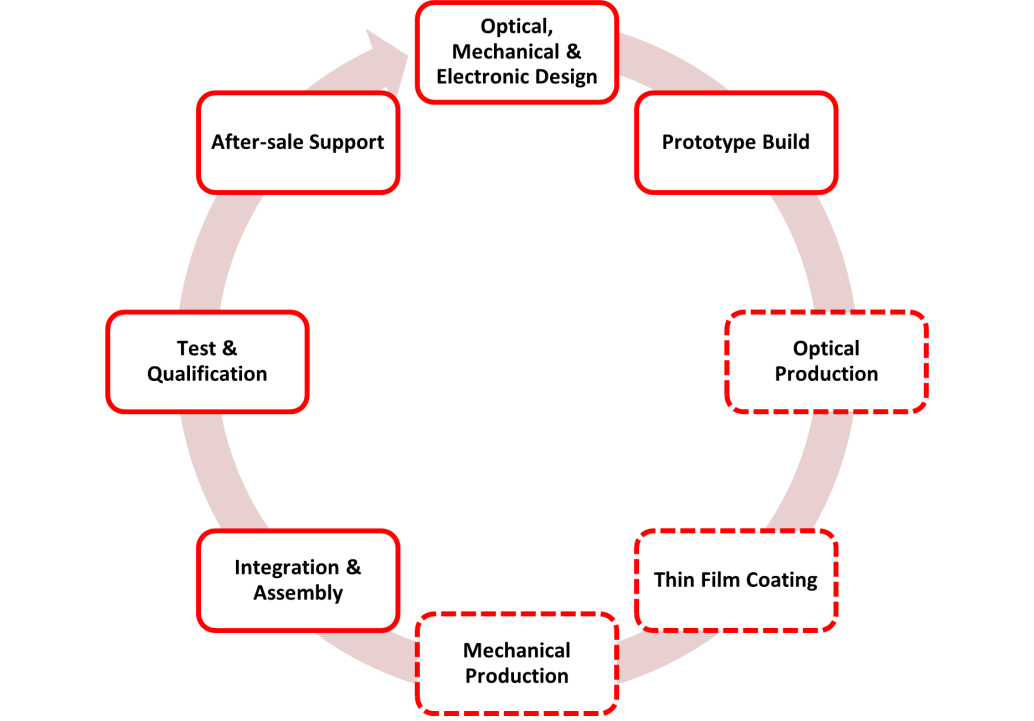 Beck Optronic Solutions offers a comprehensive service capability, taking full ownership for the design and production of precision optical solutions.

With a highly skilled and experienced team, and extensive investment in design, manufacturing and test equipment, Beck is able to fulfil the most demanding project requirements for Clients.

Beck can call upon a network of long-standing, high quality partners to deliver highly specialist complementary products and services for integration into the solution.
Design
We have a highly skilled, experienced and innovative design capability, unrivalled among medium sized UK companies involved in precision optics / opto-mechanics. Our team has extensive experience in visible, near infrared, thermal imaging and CO2 laser systems and regularly works to full military specifications. Our design capability encompasses optics, thin film coating, mechanics, and, through specialist partners, electronics and software, enabling us to undertake full responsibility for total solution design for complex, integrated assemblies. We are equally comfortable undertaking all of the work ourselves, or in working closely with the Client's own engineering team.
Our design team uses industry standard CAD tools - ZEMAX for optical design, SolidWorks for mechanical design and Essential Macleod for the design of thin film coatings.
Prototype Build
Many projects require us to build prototype systems for testing and evaluation prior to a decision on production manufacture. Again, we are always pleased to actively support the Client's development programme, and to offer our knowledge and experience in the quest for design improvements that enable the system to enter into a production process.
Production Manufacture
When a design is approved for production manufacture, we will immediately assign a Production Engineer to manage the transition. His responsibility is to develop the most efficient production process, including the design and supply of tooling, documentation, test procedures, etc. Often, it will encompass design enhancements that build upon the prototype output. Our procurement team will set about acquiring all necessary materials, sourcing globally, including any specialist components or processes that are outsourced. The management team will schedule the production run once there is a full picture of availability.
The whole manufacturing process is managed through an ERP application, and subject to the rigours of our accredited ISO 9001:2008 Quality Management System.
Integration & Assembly
We take total responsibility for the full integration of third party elements and final assembly and testing of the solution or system. We have a 116 m² clean room facility with positive air pressure, and a 17 m² electronics assembly area with full electrostatic protection procedures in place.
We are experienced in setting up production lines for complex systems, taking all of the internal optical and mechanical components together with third party elements, and integrating, fully assembling and testing them.
Test & Measurement
We are particularly proud to have comprehensive test and measurement capabilities within the Company, including modulation transfer function (MTF) test facilities. Within our extensive test laboratory, not only do we have five MTF test stations, perhaps more importantly we also have the skills and experience to calibrate them, to use them and to interpret the results. The MTF capability encompasses visible, near IR,SWIR, MWIR & LWIR. In addition, we have Fizeau interferometers together with fringe analysis software. Further testing is available to cover electronics, humidity, salt, temperature, etc. Full vibration and shock testing is undertaken when required at a local test facility.
All production output is subject to stringent final test procedures to ensure that shipped product meets or exceeds the required specification.
After Sale Support
We believe that it is important to offer ongoing support and maintenance services for the systems that we deliver to our Clients. We regularly provide full life support for our manufacturing output, initially under agreed warranties and thereafter on a contracted or chargeable basis. It is common for us to provide refurbishment and upgrade programmes, and indeed we undertake some refurbishment work for systems that originated elsewhere. We maintain all tooling for in-house projects in case of later need.